Personal 7 is a company that has been offering temporary employment services for 27 years. At Personal 7 we cover all our clients' needs.
We focus especially on the hotel and catering, administrative activities, logistics and transport and manufacturing industry sectors.
We have our own recruitment team, specialised in the recruitment, evaluation, selection and hiring of qualified professionals for temporary work, offering quality services at a competitive price. Personal 7, a family company that belongs to the Grupo Constant, guarantees quality by year after year obtaining ISO 9001 certification by AENOR.
At Personal 7 we are committed to innovation, digitalisation and continuous improvement of the company. We use technological resources to be more efficient and to quickly offer the necessary staff to the client, as well as to obtain the desired reports.
Our extensive experience in the sector has led us to expand and to offer all our services in 32 branches throughout Spain, including the Balearic and Canary Islands, as well as Portugal and the Czech Republic. The result: proximity to the client, working with maximum ease and creating a relationship of trust between the client and Personal 7.
About us
Years of
experience
27
years
We have
employed up to
12.713
people in a
single year
We have
hired up to
27.864
workers in
one year
We have
worked with
578
clients in
one year
We have
more than
32
branches throughout Spain
(including the islands),
Portugal and the Czech Republic.
Our mission
We want to be a leading company in temporary employment services (ETT) by being close to the candidate and client, listening to them and being flexible in terms of decision-making speed.
How do we go about achieving this?

We capture talent and help you reach your potential.

We help save time and resources.


We learn from our client and vice versa.

We are agile in recruitment thanks to the expertise of Personal 7's staff.

We are close to our clients with more than 30 branches throughout Spain (including the Balearic and Canary Islands) to respond quickly to their needs.
Our values
At Personal 7 we take the quality of service we provide very seriously and we always do so with the values that represent us:
1
Authenticity
We value our origins and act with conviction, honesty and dedication to respect them.
2
Ambition
We continually explore ways to diversify our services and improve their quality to meet the needs of our clients.
3
Respect
We show and promote the utmost respect and appreciation for our employees and customers.
4
Adaptability
We are willing to adapt our services to the needs of our clients.
5
Commitment
We are committed to working for the welfare and loyalty of employees and customers, as well as helping social entities linked to health, childhood and disadvantaged groups.
6
Efficiency
We seek new management models that allow us to obtain the desired result both for internal processes and services offered with the necessary resources.
We constantly seek to be the best company for our clients and partners. For this reason we always have our sights set on transforming our company into a better one:
Interactive map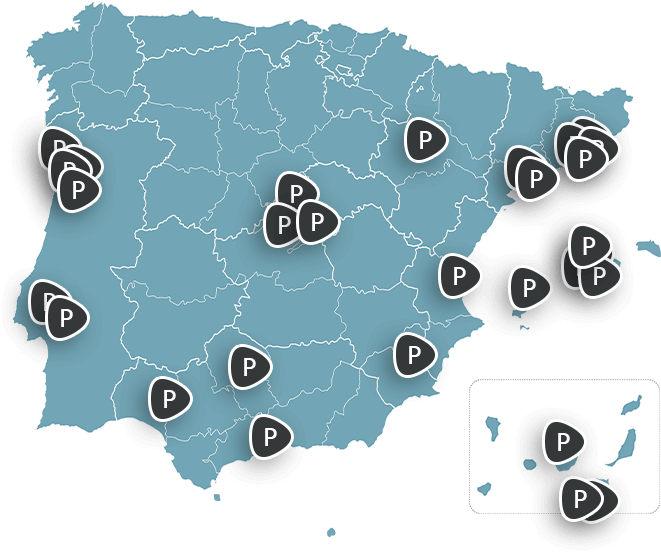 National and international coverage
Discover our interactive map!
Central Delegations
Barcelona: Avinguda Diagonal, 523, Edificio Atalaya, Planta 21
Madrid: C/ Alfonso Gómez, 42C / C.P 28037
Lisboa: Rua Manuel de Jesus Coelho, nº4, 4º Andar, 1150-220
National Offices
Alicante / Barcelona / Córdoba / Ibiza / Las Palmas / Madrid
Málaga / Murcia / Palma de Mallorca / Sevilla / Tarragona
Tenerife / Valencia / Zaragoza