Recruitment solutions
Are you looking to fill a number of vacancies in your business? Personal 7 is the solution.
Contact us
At Personal 7 we provide all the human resources to meet your needs in a comprehensive way.
Having our own recruitment department within Personal 7 and the nearly 30 years that we have been recruiting has allowed us to go deeper into each sector and to get to know what the profiles required by our clientele should be like.
At Personal 7 we offer full coverage in the recruitment, assessment, selection and hiring of qualified professionals in temporary work, taking into account that there are peaks of work.
1
Catchment
Use of candidate recruitment channels
2
Evaluation
In-depth and competency-based interviews
3
Selection
Final interviews (if applicable)
4
Hiring
Door available to the candidate
PRL Occupational Risk Prevention
We go where the candidates are
We offer temporary employment solutions to cover all the needs requested by the client, many of them related to the productivity of the organisation.
At Personal 7 we are characterised by expertise and flexibility. Our raison d'être is to help companies grow and provide opportunities for candidates to join them. The years we have been selecting and recruiting candidates have given us in-depth knowledge of the sector. But we are not satisfied with this alone, so we continue to innovate and strive for continuous improvement of the company. We use technological resources to be more agile and quickly offer the client the necessary personnel. These allow both the company and the selected clients to save time by offering all the administrative procedures, access to information and training on online platforms.
Everything for our candidates
Job offers with the highest demand
Why Personal 7?

We attract talent and help it to reach its potential, solving the needs of the company.

We are flexible. Available 24/7 for whatever the emergency may be.

We are swift in recruiting candidates thanks to the in-house team and experience of Personal 7's workforce.

We help save time and resources.

We are close to our clients with more than 30 branches throughout Spain (including the Balearic and Canary Islands) to respond quickly to their needs.
Frequent questions about temporary employment
Who registers a temporary agency worker?
Temporary employment agencies (ETT) are companies that take care of the selection process as well as the recruitment and administrative management. In this way, the company saves time and costs and can focus on the training and tasks of the specific job.
Are there limitations on ETT contracts?
No, there are no limitations. ETT companies, such as Personal 7, can hire without limit for the same company as long as it is a job for a certain time. The objective is to meet the client's needs quickly, facilitating administrative procedures and helping them to save costs and time.
Interactive map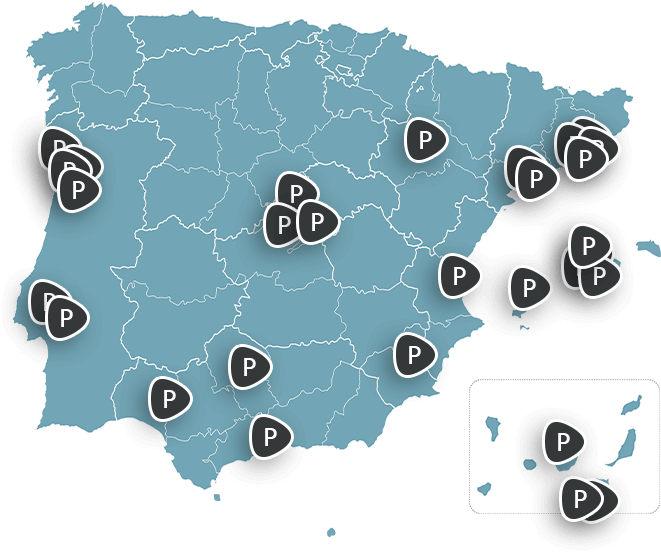 National and international coverage
Discover our interactive map!
Central Delegations
Barcelona: Avinguda Diagonal, 523, Edificio Atalaya, Planta 21
Madrid: C/ Alfonso Gómez, 42C / C.P 28037
Lisboa: Rua Manuel de Jesus Coelho, nº4, 4º Andar, 1150-220
National Offices
Alicante / Barcelona / Córdoba / Ibiza / Las Palmas / Madrid
Málaga / Murcia / Palma de Mallorca / Sevilla / Tarragona
Tenerife / Valencia / Zaragoza